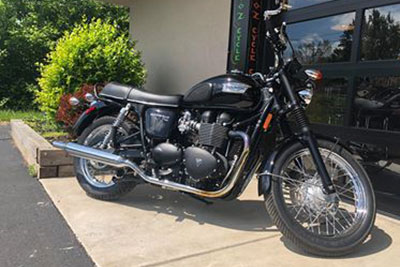 On Thursday May 17 2018 a gentleman stopped into the shop to inquire about selling his Motorcycle on Consignment. He googled motorcycle shops that sold bikes on consignment and VOZ CYCLE City showed up. He further did research o VOZ and found out we have multiple 5 star reviews so he felt comfortable coming in. He mentioned he was no longer riding his bike and his wife wanted him to sell it. He mentioned to me he really was not concerned with getting money for the bike and was actually looking around to donate it but could not feel comfortable with giving the bike to just any organization. I told him if he wanted to donate it that I was involved and on the Board of Directors in a great not for profit called WNY Heroes. I mentioned to him about a program called Operation Automotive where people donate their cars and we have a few auto repair shops that go through the cars and then we give the cars to local Veterans. (We have never received a Motorcycle to give to a Veteran) But KiPo Chevrolet in Ransomville did Raffle off a Motorcycle and gave all proceeds to WNY Heroes. I gave him some literature on WNY Heroes to read and research, he thanked me and then left. A little while later in the day he called VOZ CYCLE City asked for me and then proceeded to tell me he wanted to donate his bike and he would be dropping it off later in the day. He called back about a half hour later mentioned he spoke to his wife about the donation and she was thrilled, so thrilled she was going to leave work early so they could bring the bike in around 3:00 PM. He then further asked if he could bring a spare seat, NEW Leather Jacket, New Motorcycle jack and a few other things I said absolutely. The generous couple showed up with the bike and other things signed the title and then handed me $200.00 to go over the bike and make sure it is OK before we do what we are going to do with it.
Needless to say we will be having a raffle for a 2013 Triumph Motorcycle with all proceeds going to WNY Heroes.

This story goes to show their are still amazing people in his world that are willing to help others without looking to benefit in any way.
If you would like to donate a motorcycle to support WNY Heros, please fill out the form below and let us know about your bike.
If you have any questions, please contact us and let us know how we can help you.